Storyteller Videographer Producer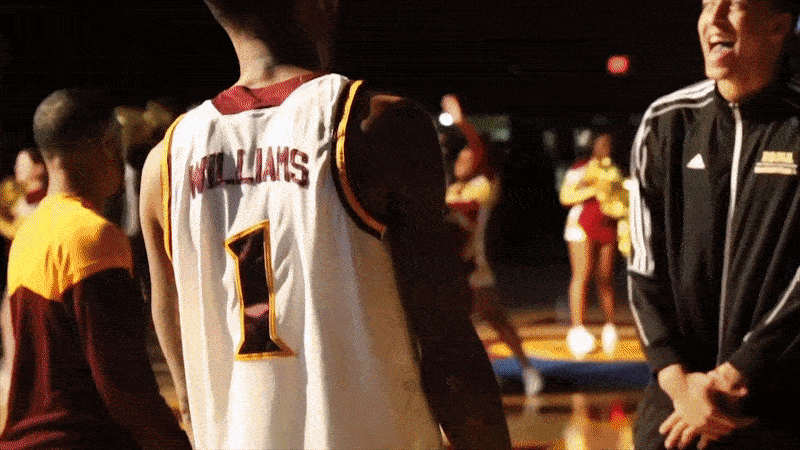 Thousands of children have been affected by the widespread abuse of opioids by their parents, swelling the ranks of foster care and turning grandparents into full-time caregivers.
Personal credits: videographer, writer, editor, narrator
Louisiana has long had the highest incarceration rate in the United States. Now its Democratic governor, John Bel Edwards, and some Republican lawmakers, are backing legislation aimed at reducing the prison population and bringing widespread change to a state commonly known as the world's prison capital. Photo: Edmund D. Fountain for The Wall Street Journal

Personal Credits: Videographer, Writer, Editor, Narrator
Iona basketball star and Newark native Isaiah Williams dazzles on the court. He averages 13.5 points a game, shooting 51 percent from the floor. His coaches rave about him and call him one of the most important players on their team – a team that has a chance to make waves during March Madness. Talk to Isaiah, and he will share his journey from the streets of Newark to Division 1 basketball. It is one marked by incomprehensible loss that has been fueled by street violence — a nightmare Isaiah has spent his life trying to escape.
Personal credits: videographer, writer, editor, narrator
Winner of a 2016 New York Emmy Award (Human Interest category)
Each year 2.5 million honeybee colonies crisscross the country, traveling from farm to farm, from the almond orchards of California to the blueberry fields of New Jersey, with one crucial job ­– to pollinate America's crops. Bee pollination directly contributes to one third of our food and increases crop value in the U.S. by $15 billion annually. Yet, few ever see these bees at work or know how the beekeeping industry that maintains them has been pushed to the brink of devastation.
Personal credits: videographer, writer, editor, narrator
Massive tailings dams, like this functional one near Antonio Pereira, Brazil, are built by mining companies to hold back the sludge left behind when a mill separates metals from ore. But the dams fail often enough that industry engineers are sounding alarms.
Personal credits: producer, writer, editor, narrator
Men will vie for the honor, but there can be only one George Washington crossing the Delaware. This eye-opening documentary enters the cutthroat world of historical reenactment – and follows four men in their ultimate quest to portray Washington at the annual crossing of the Delaware River on Christmas Day.
Personal credits: videographer, writer, editor, narrator
Awards
2015 New York Emmy Award winner for Best Documentary.
2015 New York Emmy Award winner for Best Writing.
2015 Garden State Film Festival Official selection (Home Grown Documentary Short).
2014 Montclair Film Festival Official selection.
2014 Manhattan Film Festival Official selection (Film Preservation Award).
2014 New Hope Film Festival Official selection (Best Mid-Atlantic Film).
Armed with colorful chalk and something to say, The Guerilla Haiku Movement hit the streets of Orange, New Jersey and filled them with haiku poetry. The four hour event was meant to help build community through creativity and interpersonal connections. Participants are encouraged to get as many people as possible from the town involved in making poetry. Though the sidewalk chalk will eventually fade, organizers hope the sense of community that stems from the activities won't.
Personal credits: videographer, editor
"The Choice: How Reconstruction Revolutionized the Treatment of Breast Cancer" explores the ways surgical advances have given patients more control over their recovery — and the new set of deep difficult questions they must confront over body image and personal identity. Four women who faced the time-sensitive decisions about mastectomies recount their struggle through questions over physical appearance, changes in sexuality and the psychological effects of surgery.
Personal credits: videographer, writer, editor, narrator
Winner of a 2014 New York Emmy Award (Writing category)
The Star-Ledger documentary, "State of Reflection: New Jersey 10 Years After 9/11", examines how the tragedy has changed the physical and emotional landscape of New York's sister state, New Jersey, and explores the many ways New Jerseyans are honoring the lost. This project was inspired by video interviews Star-Ledger's Jennifer Brown did with families and friends who lost loved ones on September 11, 2001. A special thank you goes to the families of Dorothy Chiarchiaro, Edward P. Felt, Susan Huie, Todd Ouida, and Dominique Pandolfo. (Video by Adya Beasley / The Star-Ledger, Edited by Bumper DeJesus and Seth Siditsky)
Winner of the 2013 New York Emmy award in the Human Interest Program or Special category.
Winner of the 2012 New York Broadcasters Association Awards for Best Documentary